How Debt Consolidation Can Work For You!
Are you living from pay to pay? Struggling to pay off your home loan, credit card and personal loan each month? You might also have a car loan. There are options for you to consider with debt consolidation.
So what is Debt Consolidation?
Debt consolidation is simply putting all your different debt together to have one loan to pay
off many debts.
Different types of debt have different interest rates. Generally home loans are a lower interest rate as they are secured by your home which lowers the risk to the bank.
Credit cards, store loans and unsecured personal loans are provided without any security and therefore lenders charge much higher rates of interest. Some banks can charge over 20% interest on credit cards!!! So if you don't pay the entire balance by your due date each month you are paying the bank a lot of interest. The reason they charge a higher rate is that in the event of you defaulting on a payment, they are unable to immediately gain access to your assets to seek repayment of their loan.
The first step to take when consolidating your debt is to talk to MORTGAGE BROKER BRISBANE.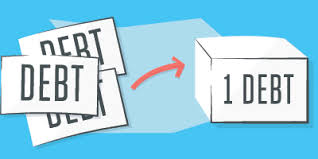 A Mortgage Broker can help you understand all your debt and talk about your options. If you have a property they can get a bank valuation for you to understand the value and see if you have any equity in the property to help with your debt consolidation strategy.
Potentially you can put all your loans together and pay one amount at a much lower interest rate. Here are a few tips to help you in the process.
Understand the fees for paying out our debt and starting the new debt
Before you take out a new loan to consolidate your debts, make sure your new interest rate, including fees and costs, is much lower than what you're paying on all the debts you are consolidating. If you end up paying higher interest, you're losing money and making your problem worse.
Some banks or lenders charge penalties or costs if you pay off loans early. Because a consolidation loan involves taking out one new loan to pay off your current loans, your new consolidation loan may be secured against your home or other assets, so you may have to pay application fees, legal fees, valuation and stamp duty.
Check the loan term
Beware of longer loan terms. Even if the interest rate is lower on the new loan, paying off a short-term debt (like a credit card or personal loan) over a very long term means you will still pay more in interest and fees in the long run. Do the numbers!!!
Seek professional Advice
Speak to a Mortgage Broker Brisbane to get written advice. They are experts who can look at the contracts on your existing debt and advise you on the best solution. If you go to a bank you will only get that banks opinions and rates. By seeing a Mortgage Broker they do all the leg-work for you. They have a large panel of lenders to work with.
Once you consolidate your debt you should see a Certified Financial Planner who can help you save money and plan for your future. Make sure you reduce the limit on your credit cards so you have enough cash to pay it off each month and don't get the card up to the limit where you can't afford to pay it in full. Also ensure you have a savings plan and debt reduction plan.
For our range of financial services please visit our website!